Instagram Fonts - ᖴᗩᑎᑕY & Stylish Instagram Fonts
Fonts IG - 𝐹𝑜𝓃𝓉𝓈 𝐹𝑜𝓇 𝐼𝓃𝓈𝓉𝒶𝑔𝓇𝒶𝓂 ( ͡~ ͜ʖ ͡°)one click Options to copy with infinite random Stylish Text fonts with emojis 🎀 𝓁🌺𝓋𝑒 🎀 for insta Bio and profile name.
Welcome to Fonts IG a dedicated, cool and stylish fonts genrator website for Instagram fonts for Bio and profile name.
Lenny Face first posted on finland based message board website Ylilauta in comment section. And it detacted as spam but it goes viral and posted seviral times on 2012 in diferent website.Lenny faces are more popular in Reddit website and posted so many times through seviral subreddit.
How to use fonts IG?
Using fontig.com is easy to use, type your text in textarea field and our website convert and generate infinite number of stylish cool fonts. After generated you just click on the copy button to copy the text and paste into your instagram bio or profile name. You can see preview in our instagram preview section how fonts look in your instagram profile.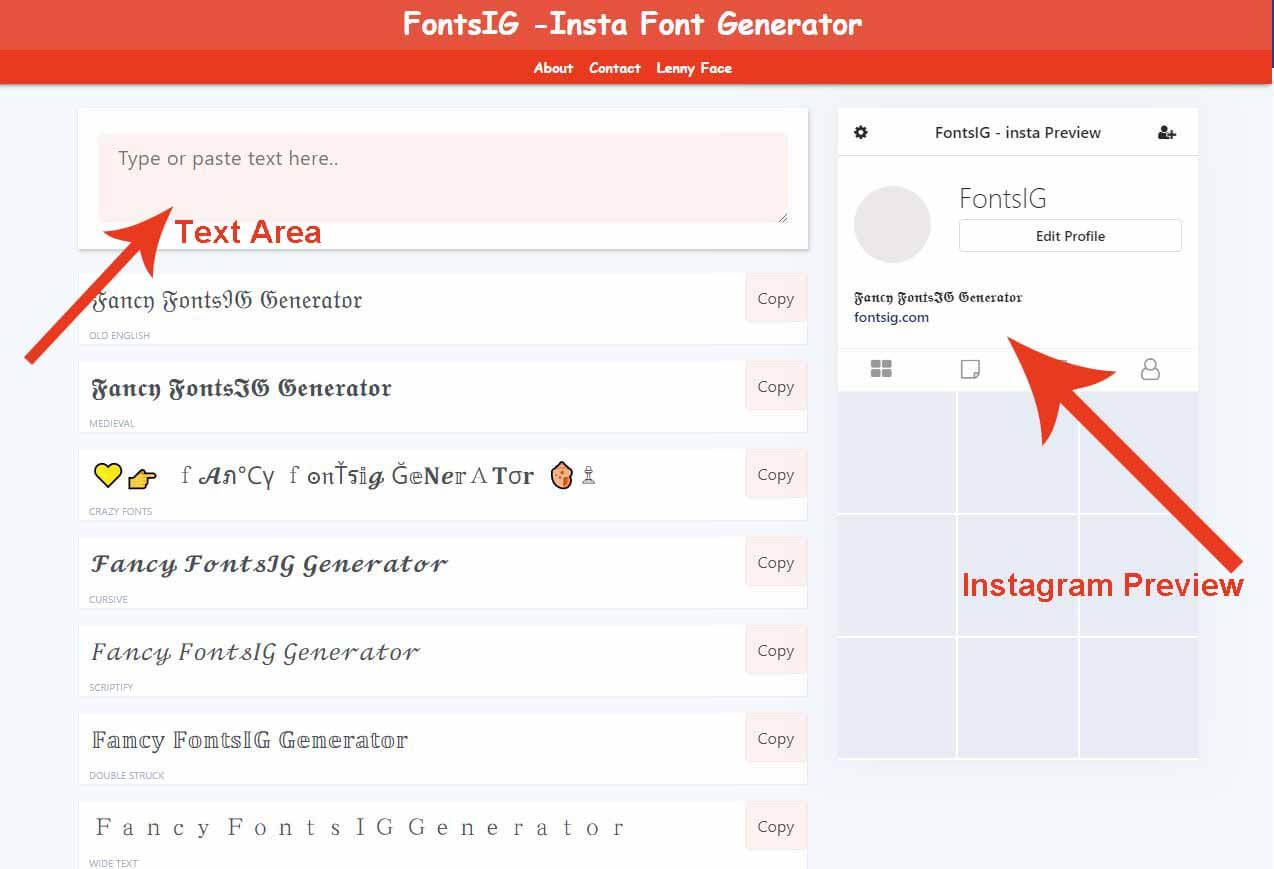 In fontig.com you will generate infinite number of stilish font for instagram profile. In the end of the font generate section you can see lode more button click on that and it will genrate randoms font. There is no limit.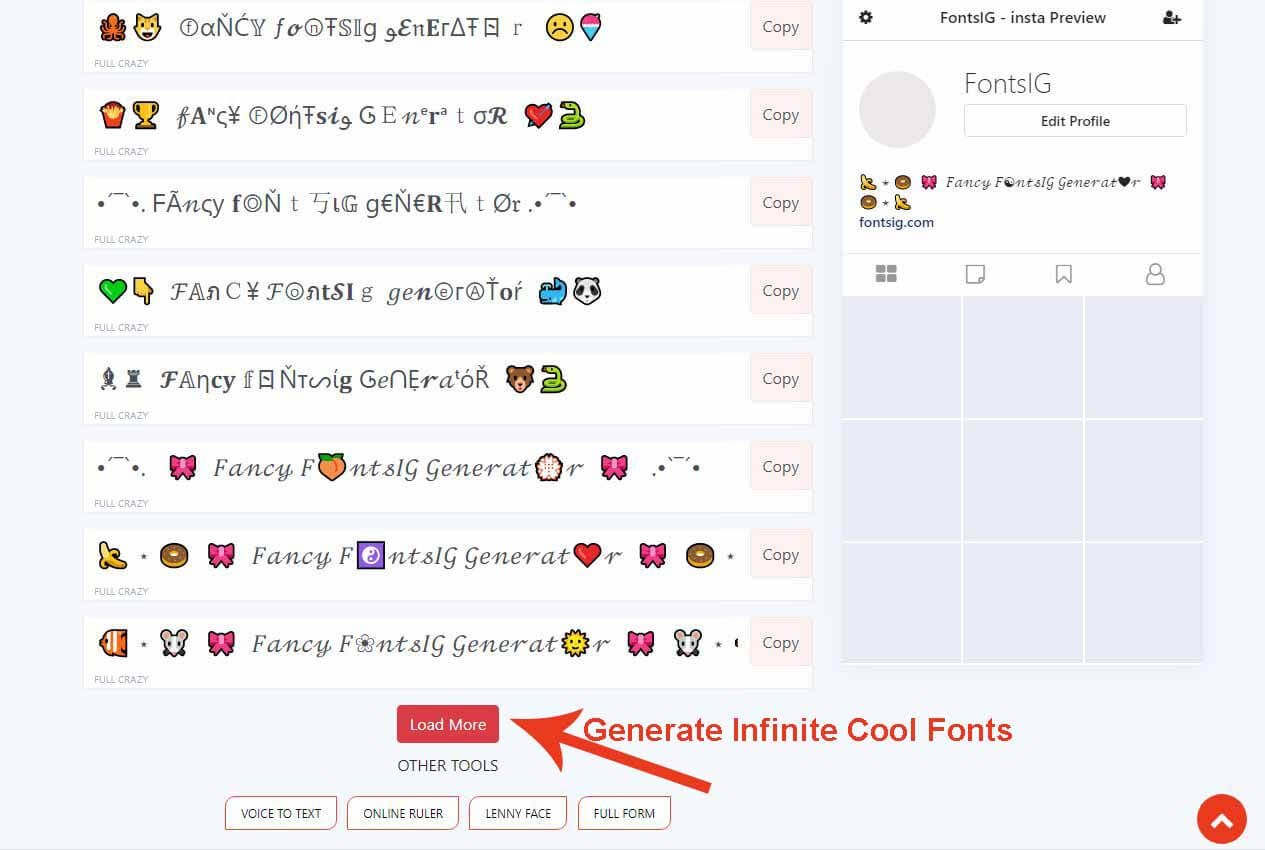 Some of popular fancy font examples you can genrate through our website for instagram profile.
Glitch Text Generator mostly knows as Zalgo or Creepify text
Zalogo text is a random ugly looking weird scary text.
Zalogo fonts example: F̸̨̛̰̠̫͋̊̐͑̑̓̑̕̕ṍ̴̹͎̙̍̚̚͠ņ̷̝͇͖̫͚͉̰̅͊͑̃͋t̵̥̟̲̝̱̝̮͈̮͑s̴̡͈̰͔̱̼̜̲͔̞͛̐̌I̴̡̩̼͉̮͙̊G̶̨̧̥̣̦̜̏̕ͅ
Old English Text Generator
If you like old english text then definitely you love this.
Old English Text example: 𝔒𝔩𝔡 𝔈𝔫𝔤𝔩𝔦𝔰𝔥
Luni Bubbles Fonts Generator
Luni Bubbles is also quite famous on social networking website like Facebook, Instagram and Twitter.
Luni Bubbles fonts example: Ⓕⓐⓝⓒⓨ ⒻⓞⓝⓣⓢⒾⒼ Ⓖⓔⓝⓔⓡⓐⓣⓞⓡ
Inverted Squares Fonts Generator
Inverted square is most fampous font around the world you can see this fonts on various profile name and bio.
Inverted square text example: 🅵🅰🅽🅲🆈 🅵🅾🅽🆃🆂🅸🅶 🅶🅴🅽🅴🆁🅰🆃🅾🆁
Cursive Text Generator
Generate Cursive look for your text.
Cursive fonts example: 𝓒𝓾𝓻𝓼𝓲𝓿𝓮 𝓣𝓮𝔁𝓽
Squares Fonts Generator
Generate square border around every text character.
>Squares Fonts exapmle: 🄵🄰🄽🄲🅈 🄵🄾🄽🅃🅂🄸🄶 🄶🄴🄽🄴🅁🄰🅃🄾🅁
Wide Text Fonts Generator
Wide text fonts are wide text
Wide Text fonts example: Fancy FontsIG Generator 
Tiny Text Generator
Every text look tiny and small.
example: ᴛɪɴʏ ᴛᴇxᴛ ɢᴇɴᴇʀᴀᴛᴏʀ
Flip Side Text Generator
All text flips
Example: ɹoʇɐɹǝuǝ⅁ ʇxǝ⊥ ǝpıS dılℲ
Mirror Type Text Generator
Creates a mirror look effect for your text.
Example: ƚxɘT ɘqʏT ɿoɿɿiM
Strikethrough Text Generator
Generate a Strike through every text.
Example: S̶t̶r̶i̶k̶e̶t̶h̶r̶o̶u̶g̶h̶
Tilde Strike-Through Generator
Generate a Tilde Strike through every text.
Example: T̴i̴l̴d̴e̴ ̴S̴t̴r̴i̴k̴e̴-̴T̴h̴r̴o̴u̴g̴h̴
Bold Text Generator
Generate bold texts
Example: 𝐁𝐨𝐥𝐝 𝐓𝐞𝐱𝐭 𝐆𝐞𝐧𝐞𝐫𝐚𝐭𝐨𝐫
Can we use these fancy text fonts on social media platforms like Facebook, Twitter, and Instagram?
Yes, you can use all generated fancy text fonts on all popular social media platform.
Fancy Text Fonts for Instagram (Stories, Captions, comments and Bio)
You can use fonts IG fancy fonts on Instagram and share your stories, BIO and even as comments as fancy cool fonts text.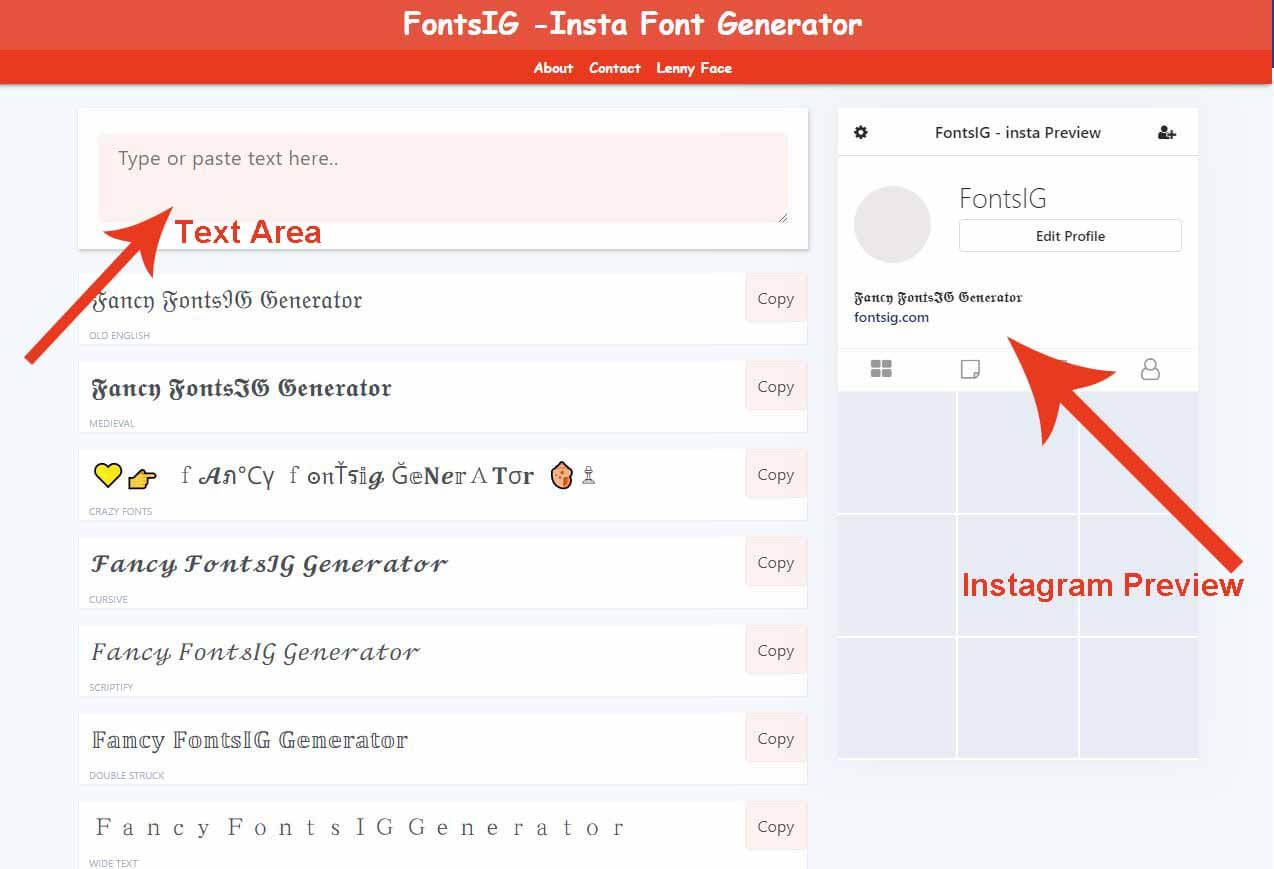 Fancy Text Fonts for Twitter
You can use all the fancy fonts in your twitter profile page as comments, Profile name and Bio.
Dedicated Fonts for Twitter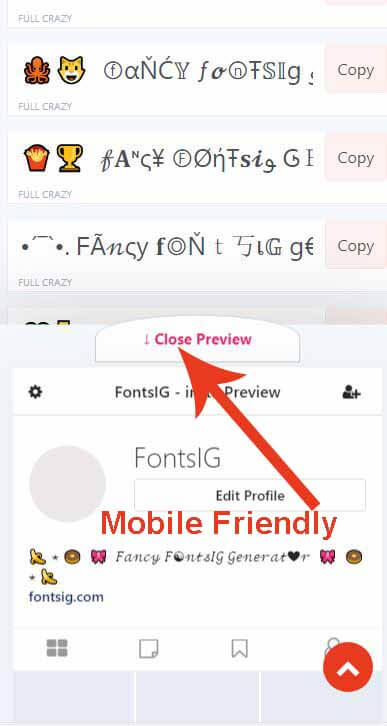 Why some of Fancy Text Fonts for Facebook (Stories, Comments and Bio) not supported
For security reasons some of fonts not supported on Facebook, But some of the popular fancy fonts still work on Facebook.